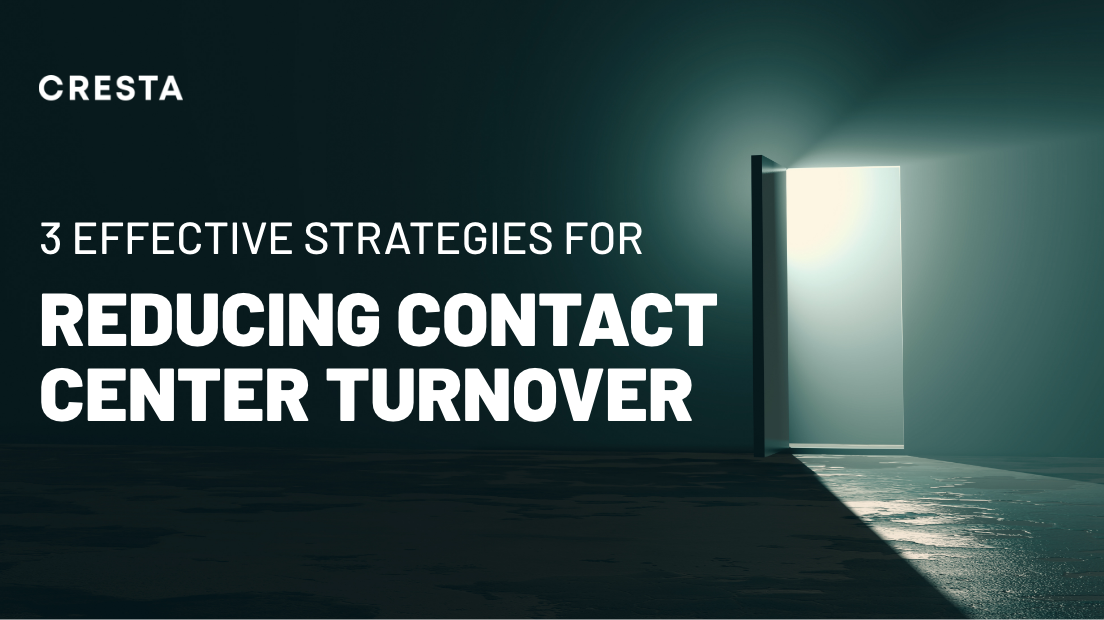 Being a contact center agent is arguably more demanding than ever. While traditional obstacles remain, surging demand and higher customer expectations compound the complications inherent in the role.
Unsurprisingly, this has taken a toll on many contact center agents, with employee burnout and agent attrition jumping dramatically since the beginning of the pandemic. Although agent turnover has historically been tricky to solve, legacy systems and the new work-from-home (WFH) model make it even more difficult for contact centers and BPOs operating on razor-thin margins. 
Thankfully, contact center leaders can use three simple but effective strategies to reduce agent turnover, improve agent well-being, and create a healthy and sustainable culture.
1. Focus On Employee Satisfaction
Providing consistent high-quality customer service depends on experienced, knowledgeable agents with proper training and support. Failing to retain the most talented agents can erode customer satisfaction while increasing costs. So how do you retain top talent? You focus on employee satisfaction. 
According to research done by Mckinsey, there are five factors that have the greatest influence on agent satisfaction and retention. They are:
Wages / Job Security
Promotion Opportunities
Friends / Community
Stress
Breaks
Although simple, these five core drivers have a monumental impact on employee satisfaction and retention. Frontline leaders should focus on the factors they can control to maximize their impact. 
2. Revamp Your Coaching Program
Organizations must be intentional about helping agents adapt to organizational values and norms, especially during their first year. Frontline managers should routinely engage agents in how performance is measured and rewarded, and how growth opportunities arise.
Fortunately, technologies like Cresta Director allow contact center managers to observe, track, and provide crucial feedback on all customer interactions. These insights provide plenty of opportunities for managers to set up early wins for agents, define what "good" looks like, and establish a better relationship with their team members.
3. Standardize Your Onboarding
Onboarding new employees are hard. Many recognize the long-term impact a poor onboarding experience can have on their employees, but many companies are still too focused on logistics.
The truth is, 20% of staff turnover occurs within the first 45 days of employment. This means that the foundation of contact center retention begins by accepting that onboarding isn't the end of the hiring process. Quite the opposite, onboarding must be the beginning of your retention program.
Organizations that have a standardized onboarding process see 50% higher retention and 62% more productivity out of their new hires. Incorporating the key drivers mentioned above and focusing on a combination of organizational, technical, and social onboarding within the agent's first year will set them up for long-term success.
Turning the Tables on Contact Center Agent Turnover
Contact centers will only become more complex in the coming years, meaning the expertise of longer-tenured service agents will be needed more than ever to provide an excellent customer experience. The stress inherent in the contact center will always take a toll on efforts to retain high performers; that aspect of the job is unlikely to change.
However, companies that strive to create a workplace where employees feel a strong sense of community and have the time to connect with peers and supervisors will be rewarded with engaged employees who want to stay around longer.