Generative AI for Financial Services
Keeping compliant and effective with real-time intelligence and generative AI in finance
When it comes to financial services, every company is focused on exceeding customer expectations while staying compliant with regulations. But keeping track of so many rules and best practices can be difficult, especially when managing large teams with thousands of customers calling in every day.
In comes Cresta for the modern financial contact center. Cresta's Real Time Intelligence platform provides financial services AI solutions to improve customer experience, ensure compliance, and unlock revenue opportunities—all while helping managers and agents work more efficiently and effectively.
Remain compliant
AI-driven hints and checklists help financial contact center agents stick to the script and remain compliant at key moments of every conversation. Define compliance rules by team, department, geography, and more through a simple no-code interface.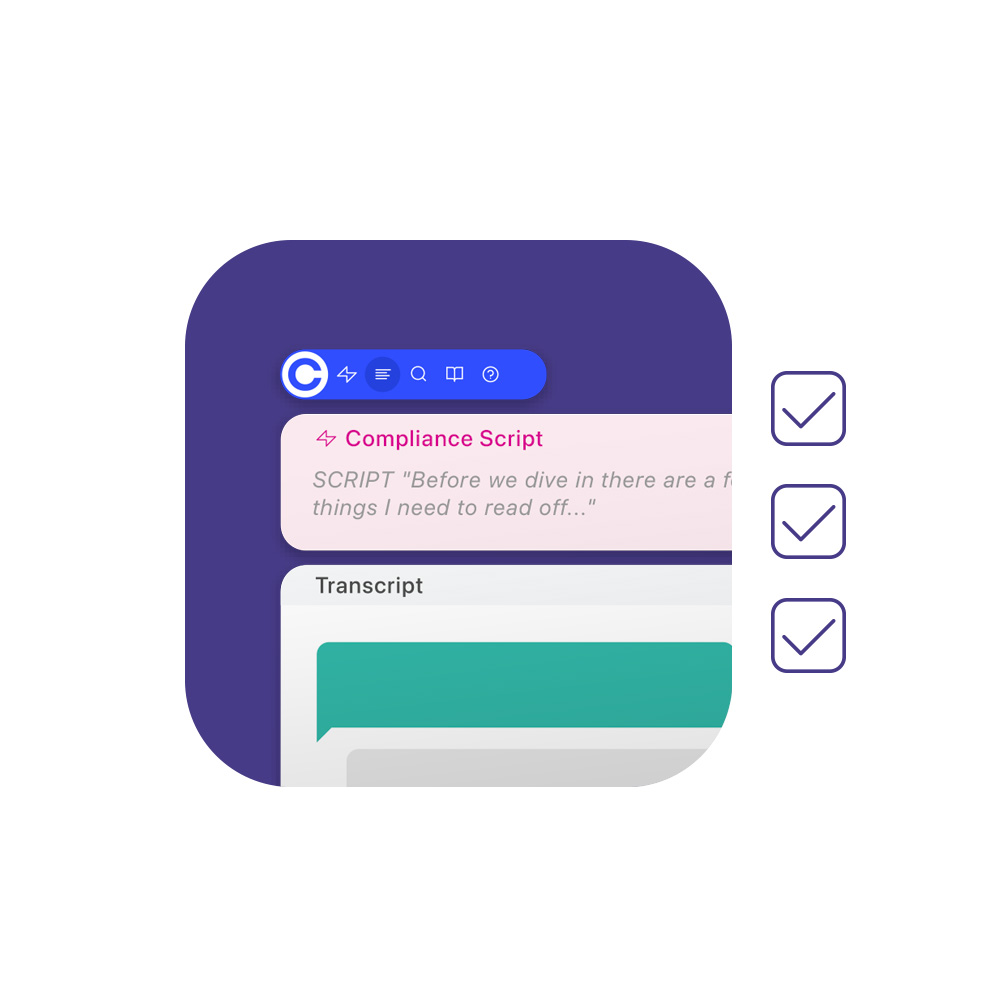 Reduce wait times, grow volume
Cresta provides a comprehensive platform for businesses in the financial industry to drive efficiency and effectiveness. The Cresta platform helps companies achieve key metrics like CSAT, AHT, and NPS by providing tools for agents, managers, and leaders.
Uncover new opportunities for growth
Cresta analyzes 100% of all conversations, enabling financial organizations to monitor business health, uncover new and emerging customer trends, and find opportunities for new product offerings to meet customer demand.
Provide financial support around the clock
Cresta's Virtual Agent makes customer service faster and more accessible to customers, wherever they are and whenever they need it. Cresta's Chatbot can be programmed to respond 100% compliantly via design, ensuring that you can remain secure while providing excellent customer service and being cost-efficient.
Collect payments with confidence
Cresta's Agent Assist gives agents a leg up when it comes to dealing with difficult situations. It offers hints and suggestions for the best way to respond, along with guided workflows that help agents stay focused on collecting payments while keeping their customers happy.
Keep up with policies and procedures
Fit the latest financial policy or offering with the conversation with Cresta's knowledge tools. Make sure agents find the right product and promotions while talking to customers in real-time by using knowledge assist and guided workflows.
Customers that use Cresta have seen:
Improvement in CSAT
Decrease in AHT
Increase in conversion
Your agents, powered up
Let us give you a personal tour of how Cresta can power your people for better CX.